I Report Scammers
I Expose Scammers
This Is Our Pledge!
You have either been a victim
or you know someone that is!
The authorities are never going to control this problem; it's up to us!
We offer a simple choice:
Remain A Victim or Fight Back!
How do we fight back?
Join the RomanceScamsNow.com
Romance Scammer Informant Program™
If 100% Free 
Here is how it works and what you do:
The Five Pointed Star
1: We provide you with your badge, that you add to YOUR dating website profile as a gallery image.  This declares to all scammers that you are mad as hell and not going to take it any more!  Then if a scammer contacts you, you are going to report them; you are going to expose them!
2: If the dating website refuses to allow YOUR badge, or takes it down, YOU report them to us!  We will maintain a list of Scammer Friendly Websites!  There is already a US$1Billion Lawsuit Against Match.com.  Maybe the sites that refuse to support anti-scammer programs like this could be offered up next?  We know the law firms involved in this suit and are fully supporting them.
3: Having the badge on your profile will automatically reduce the number of scammers that contact you.  But when they do, you report them – that is YOUR pledge! That is what YOU can do to fight back!
4: Share this with friends and family, so they can help themselves.  It takes a Volunteer Army to fight an Army of Scammers!
5: Report all suspected scammers!  You have seen the photos they use, so stay aware, and if you see those photos, report them to us!  Only together can we make a dent in this!
Terms & Conditions:
1: We ask that you do not modify the badge graphic file in any way (other than resize, and that is usually done by the websites).  The badge is copyrighted, but you are free to use it in the ways outlines on this page: on dating websites, social media websites, and in emails, to identify yourself as a Romance Scammer Informant™.
2: We ask that you fill in the form below, just so we know which people are using the badges, in case we see any unknown use.  Your information will never be shared with outsiders or marketers.  We will send you information about Dating Scams and what you can do to keep yourself safe from time to time.  However, we promise not to abuse the trust you have placed in us.
3: When you report scammers, we ask you to use your best judgment and never abuse the process.
That's It!
Only together can we make a dent in this!
In the near future, we will also ask for your help in enforcing international law against scammers!  We intend to take the battle to Africa ourselves! So stay tuned for more about this.
Sign Up And Get Your Free Online Badge!
Hey, by the way!
Buy one of our Exclusive Scammer Hunter Mugs and help us support our mission to expose and catch scammers around the world!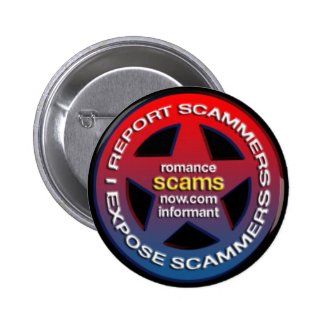 Expose Scammers Now!
Get Your Own Personal Badge Today!
Just $4 And Help Us Fund Our Mission!
---
Also visit our Dating Scams Discussion Forum
to share your experiences and knowledge for the
benefit of other victims and potential victims!
---